In House #1597

: Built to Spill's

You In Reverse

; New Band of Horses, Quasi
In what most certainly seems like a blast from some of our long-gone innocent youths, Boise's
Built to Spill
returned this week with
You In Reverse
, their first release in five years. Not that this new effort has much in common with the pre-911, pre-indie-rock-soundtracked-tv-shows
Ancient Melodies of the Future
, but it
has
been a while. Doug Martsch and the boys have dusted off the guitars nicely, however, and many are calling the new music evidence of a rejuvenated Built to Spill. One big difference over their previous work has to do with space, as in that within the songs. They've done big and epic before, to be sure, but this seems to be a looser, more free-form kind of space, thus making good on all of those bearded jamband quips that have been uttered. The band begins a massive tour in Calgary on June 9th-- a tour that was recently pushed back two months because of an eye injury Martsch suffered playing pick-up basketball. That one gets bearded rockers every time.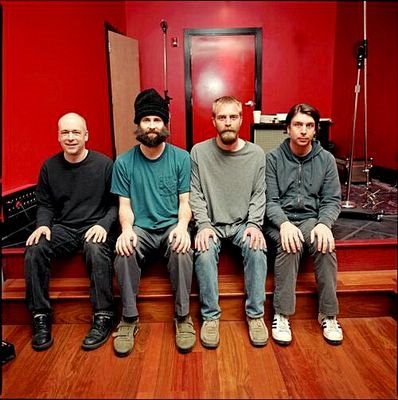 In House #1597.
Airdate: 4/12/06
Focus: New release from Built to Spill,
You In Reverse
, plus new music from Band of Horses, Quasi and more.
BONUS MP3s-
Built to Spill, from
You In Reverse
:
"Liar" (MP3)
and
"Traces" (MP3)
Also: test your one-on-one skills
here
against computer Doug Martsch, who is not above reprimands like, "Not in my house!"
PLAYLIST
In House
PODCAST #89