In House #1708:
New Early R.E.M. Best Of; Joseph Arthur's

Nuclear Daydream
I
f you're a longtime fan of so-called "alternative" or "college" music, then the early work of
R.E.M.
hardly needs an introduction. Beginning with 1983's
Murmur
the band embarked upon an impressive five-year, five-album run on the independent
I.R.S.
label. Those years now have a properly compiled representation with the release last week of
And I Feel Fine: Best of the I.R.S. Years, 1982-1987
, featuring 21 album tracks as well as a bonus disc of previously unreleased live, alternate, and otherwise selected numbers. At a time in the band's trajectory when their star has fallen off a bit with a recent string of less than great releases, this refresher serves to remind that R.E.M.'s early discography ranks well alongside that of anyone.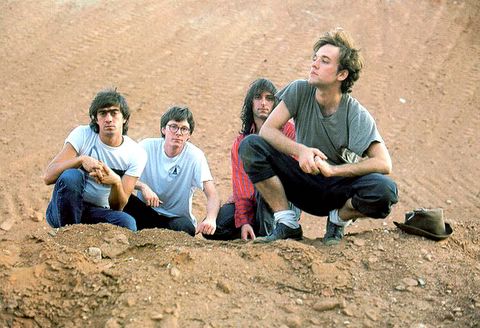 Also today, music from singer-songwriter Joseph Arthur's fifth album,
Nuclear Daydream,
released today on his own
Lonely Astronaut
label. Since being discovered by
Peter Gabriel
and signed to his
Real World
label on the strength of a demo cassette back in the mid-90's, Arthur has done nothing if not follow his own muse. From the sounds of things, it's taken him to another place entirely on the new effort, and the result is an album that seems to sound less like himself than he has in the past, if that makes any sense. Arthur will be touring the U.S. over the next six weeks or so in support of the release.

In House #1708.
Airdate: 9/19/06
Focus: New collection from R.E.M.,
And I Feel Fine: The Best of the I.R.S. Years, 1982-1987
, plus a new release from Joseph Arthur,
Nuclear Daydream
, out today, and new music from Robyn Hitchock, Roman Candle, and more.
BONUS Vids-
R.E.M. performing "Begin the Begin" at last weekend's Georgia Music Hall of Fame induction:
R.E.M. performing "Driver 8" during a 1985 performance:
BONUS MP3s-
R.E.M., from
And I Feel Fine: Best of the I.R.S. Years, 1982-1987
:
"Ages of You (LIVE)" (MP3)
Joseph Arthur, from
Nuclear Daydream
:
"Enough to Get Away" (MP3)
PLAYLIST
In House
PODCAST #177