Live:
Camper Van Beethoven & Cracker
Gallivan Center, Salt Lake City, UT 8/24/06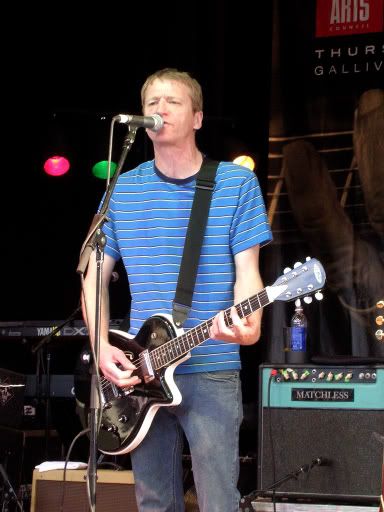 Cracker & Camper Van Beethoven played outdoors as part of Salt Lake City's Twilight Concert Series, the final date of the summer. The show marked the end of an impressive line-up for the weekly event, as its organizers stepped up the talent this year with acts like Michael Franti, Robbie Fulks, Earl Scruggs, and others, all of it offered free to the public.
Camper Van Beethoven opened things, playing a big dose of material from 2004's comeback
New Roman Times

,
with plenty of between song explanation as to each song's place in the rock opera from frontman David Lowery. Elsewhere, they also slipped in classics like "Take the Skinheads Bowling," "Pictues of Matchstick Men," and "All Her Favorite Fruit."
Camper Van Beethoven's Jonathan Segel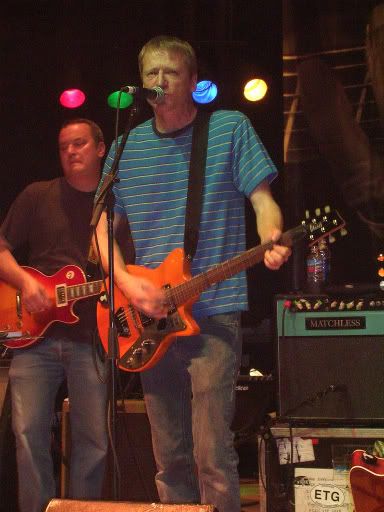 Cracker took the stage just after dark, in front of an increasingly and surprisingly raucous (and drunk) Salt Lake City crowd (apparently not tired of drinking 3-2 beer, to paraphrase Camper Van Beethoven).
Cracker played several cuts from their new release,
Greenland
, with notably strong live versions of "Gimme One More Chance," and "Everybody Gets One For Free." Johnny Hickman's "Lonesome Johnny Blues," stood out among the older tunes, with Hickman turning in an impressive round as country-blues guitar god.
The show signed off with a Cracker Van Beethoven encore, if you will, a veritable sonic orgy of improvisation highlighted by the dual dueling guitars of Hickman and Camper guitarist Greg Lisher. It was a fitting ending for two long-running bands whose recent work suggests may just now be peaking.
Plenty more photos to see
here...