Show Post: In House #1476
It's hard to pin down the sound of dios (malos). Hailing from L.A.'s South Bay, the band has a style as diverse as the area in which they grew up. Sometimes it's Hendrix, others it's the Band or the Beach Boys, and, occasionally, it's the Pixies. In short, they're all over the map-- both musically and literally as the band has spent the past year and a half or so touring the country with the likes of the Fiery Furnaces, the French Kicks, Pretty Girls Make Graves, and others. dios (malos) (formerly just plain "dios", if not for a cease and desist letter from this clown. Still no word from dEUS on the matter) hit Salt Lake City tonight, playing at Club Halo in support of their second full-length, the self-titled dios (malos), out on Startime International.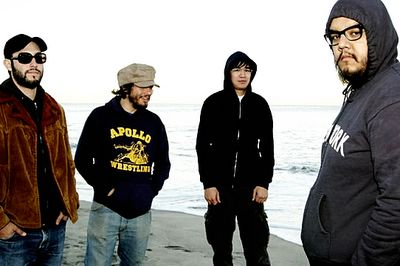 In House #1476.
Airdate: 10/20/05
Focus: dios (malos) in Salt Lake City tonight, plus new music from My Morning Jacket, Laura Veirs and more.
BONUS- since it couldn't be played on-air, here's dios (malos') version of Beck's "Asshole" (MP3).
PLAYLIST
In House
PODCAST #5