Show Post: In House #1437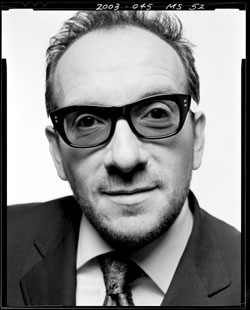 Declan Patrick McManus to his mum, Elvis Costello to you & I, turned 51 this week. In House celebrates with selections from the Costello back catalogue...

...and the debut of the Friday Random Five:
1-
Laura Cantrell's
live version of Costello's
Indoor Fireworks(MP3)
2- Vintage
John Vanderslice
from
Time Travel Is Lonely
(2001):
My Old Flame(MP3)
3- New Rosie Thomas, from the upcoming
If Songs Could Be Held
:
Pretty Dress(MP3)
4- From Richard Swift's upcoming
Secretly Canadian
debut:
As I Go(MP3)
5-
The Decemberists'
The Engine Driver(MP3)
from
Picaresque
In House #1437.
Airdate: 8/26/05
Focus: Recent release from Band of Bees,
Free the Bees
, plus In House celebrates Elvis Costello's 51st birthday with selections from his back catalogue; and new music from Supergrass, Richard Swift, Super Furry Animals and more.
PLAYLIST