Show Post: In House #1435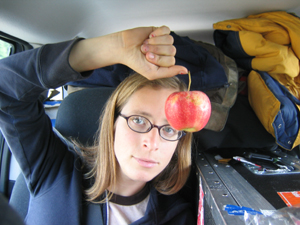 Given her appearance, one might surmise that Laura Veirs has a background in geological science. Bespectacled and refreshingly matter-of-fact, she just has a geologist's look about her. It's no mistake, then, that her songs are littered with references, figurative and literal, to phenomena like carbon, gravity, fire, water, ice and magnetic forces. Her layered and intellectually-driven lyrics are reinforced by her creative arrangements and the playing of her back-up band, the Tortured Souls. Comparisons to a slightly less coffeehouse Suzanne Vega are apt.
Year of Meteors
is Veirs' fourth album, out this week.

BONUS- from Laura Veirs'
Troubled By the Fire
Ohio Clouds(MP3)
In House #1435.
Airdate: 8/24/05
Focus: New release from Laura Veirs,
Year of Meteors
, plus new music from Richard Hawley, Amy Rigby, Ron Sexsmith & Don Kerr and more.
PLAYLIST