Show Post: In House #1491
The venerable
Depeche Mode
play the cavernous and horrible-sounding
E Center
near Salt Lake City tomorrow night. The multi-phase band is touring in support of their latest,
Playing the Angel,
easily their best work since
Songs of Faith & Devotion
, if not since
Violator
. The formula that was experiemented with to mostly negative results in recent years appears to be back, particularly in Martin Gore's instrumentation, with songs like "Precious" and "John the Revelator" harkening back to
Violator
's best moments. On a personal note, while the band will no doubt show up looking considerably less than their ages, I'm feeling a bit old since it was twelve years ago this month that I saw them on the
Songs of Faith & Devotion
tour. It was my first real rock concert.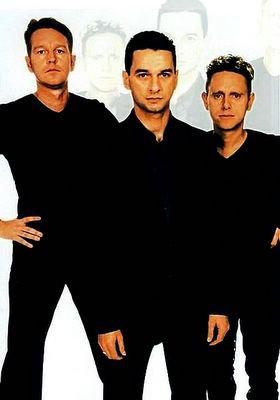 In House #1491.Airdate: 11/11/05Focus: Depeche Mode in Salt Lake City this weekend, plus new music from Kate Bush, Franz Ferdinand and more.
PLAYLIST